Trawlers:
Having consulted with a number of fellow travelers, both power and sail, I will open myself to criticism and state that the best type of vessel for conditions on the North Coast is a single screw, displacement, Trawler style boat. This type of vessel has the advantages of range, foul (rainy) weather comfort and good seakeeping that suite the environment.

As the summer here is often cool and rainy, we like to spend the sunny days ashore and rain for a trawler is good 'traveling weather". The single screw, full keel trawler design is less susceptible to damage from floating debris than a twin screw vessel and one could conjecture, has half the chance of having engine trouble.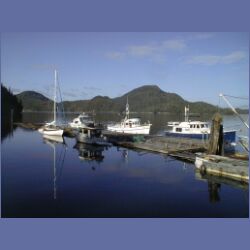 Sailboats:
The standard sloop or ketch rigged, inboard diesel sailboat has the advantage of being significantly more capable in dealing with really rough seas and has built-in redundancy in propulsion. The odd thing is that one rarely sees sailboats actually sailing on the north coast even though many are significantly underpowered. I have never found a good reason for it but that is the way it is.

The most significant disadvantage of the standard sailboat here is that in this often rainy climate, one must don the raingear and stand out in the weather to steer. The ideal compromise is a large, closed cockpit motorsailer.

Sailors N.B.: If you have one of those silly folding-pinwheel racing propellers, before you venture north replace it with a proper three blade prop matched to your engine and hull speed. If your only engine is an outboard motor kicker; Well, lets just say you will have quite an adventure on the north coast.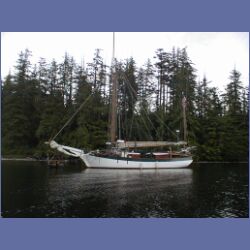 Plague Ships:
Giant speedboats that churn up huge wakes while racing to the next gas pump and run their gensets day and night to power the TV, the tunes and the electric weenie roaster:
No (public) comment.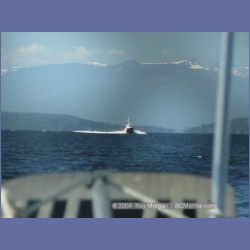 Sailing Vessel 'Joshua' in Columbia Cove, Brooks Peninsula. A replica of 'Spray' in which Joshua Slocum made the first solo circumnavigation of the world.
Fuel (range) and fresh water capacity:
Shelyann burns less than two of her 200 US gallons of fuel per hour at 7.5 knots giving an absolute range in the neighborhood of 700 miles. We carry about 60 gallons of fresh water and sometimes wish we had more. The water from many sources along the coast is discolored with cedar tannin but we have taken no extraordinary precautions about using it and have suffered no ill effects.

Klemtu has fresh, clear, lake water at the fuel dock. For the best tasting water on the coast, Idle the bowsprit up to one of the rivulets streaming thousands of feet down the cliff faces in Kynoch Inlet and fill up a cold pitcher or two. There are no beaver-fever beavers up there!
We've never sat down and figured out the minimum range required to make the trip, but fuel can be had every 150 miles or so along the inside passage, although generally at high prices in isolated places. Best fuel prices are at Port McNeil, Port Hardy, Prince Rupert, Ketchikan and Juneau. At Ketchikan you can give the engine a treat and get #1 Diesel at the pumps for a few cents more.

We haven't had any significant problems with dirty fuel from any of the suppliers on the north coast but it is a possibility. One year I thought we had an injector problem, as the Volvo's exhaust started smoking quite badly after fueling at one out-of-the-way place.
The smoke disappeared soon after filling the near empty tanks from a different source. The most important factor in avoiding fuel and injector problems is, of course, proper filtering. Shelyann's fuel is double filtered through an external Racor filter and the Volvo filter on the fuel pump.